Our Club Captain Bill was a very happy man after his team (Photo) won 12-3 against Otaki in the first Inter club round of the Linnell Cup, playing at home the lads did very well. Notable wins from Captain Crook 8/7, Sheldon Mc Namara 7/6, Derek Stephens 6/4, Tom Hindmarsh and Alistair Boyne  both 4/3, Chris Ranish 4/2, Malcolm Wood 2/1 and Dean Schaef all square . In the foursomes Tom and Sheldon won 6/4, Derek and Alistair 6/4 and Gavin Lovejoy and Bill 5/4, Malcolm and Dean 1 Up and Chris and Matt Thomas all square . This weekend they have an early tee time of 8am at Te Marua.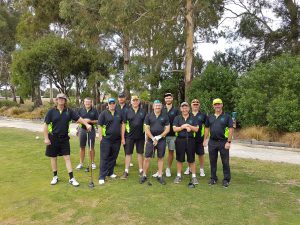 SPARK Pro-Am Results
It was close but Rookie Justin Morris wasn't too fazed with not breaking or equalling the course record held by Lance Phelps after securing his first win as a Professional at the
the 2017 Invitational Spark Pro Am at Martinborough last week.

The field of 43 PGA professionals were highly complimentary of the course and the progress in upgrading our greens though a number did stumbled with our Par 3's with very few managing to birdie them.

Morris, teeing off first thing took full advantage of the calm conditions scoring 10 birdies, paring the 4 Par 3's, the only blip came on his last hole when he bogeyed the 18th. to record his Gross 63. This score was three shots clear of the three way tie in second place to Wesley Jeon who eagled Numbers 1 and 2, though bogeyed the par 3's 12 and 16.
Harry Bateman was relaxed and soaking up the atmosphere from the get go. Birding numbers 1-6,   helped to cushion the  bogeys on number 15 and 16 before he regained his composure and birdied 17 finishing with a fine Par on 18. Trevor Marshall returned a solid performance of  5 birdies and 11 pars, an eagle  on number 1 and a sole bogey on the 7th to join this group.
The Teams Section was won by The Girls – Alison Sim, Emily Loughnan and  Mariana McDermott  who each won a round of golf at Cape Kidnappers plus a room each at Wine Country Lodge Havelock North for their efforts amassing 99 stable ford points on a c/b to 2nd place getters, Paul Harris, Sheldon McNamara and  Neil Catherall  who will be showing off their new Spark smart Phones on a c/b to the Spark 2 team who will no doubt enjoy their 5 Course meal for 6 people by Masterchef Ant North. 4th  Team Petersen, Trevor Petersen, Sandra Petersen, Marie Scrimshaw (96)  will be planning a weekend away winning 2 nights accommodation at McLeods bach for 3 couples plus 3 rounds of golf at Taupo Centennial or Tahara Course. 5th David Kershaw, Lachie McLeod, and Ray Matthews (95) won a round of golf at Royal Wellington plus $100 bar/food voucher – remember to pack your tie and sports coat on a c/b to 6th place getters Smokin Aces Girls – Brenda Blatchford, Sereana Phillipps and Roselee Thurston (95) who will have a choose where and when they take their 15 minute flight  with Amalgamated Helicopters. 7th  Greg Dalton, Jaclyn Kras and  Bill Gordon (94 on c/b)will have to consult their diaries and significant others to enjoy their Lunch at Wharekauhau. 8th Matt Thomas, Stu Taplin and  Doug Clark (94 on c/b) will have a few extra credits for being late home collecting a  3 -pack  of premium Wines from Palliser Estate, Nga Waka and Craggy Range for their days work. 9th  Bob Goodley, Sherry Weatherstone and  Cathy Taylor (93) each picked up  a $100.00 voucher from All Teed Up. 10th  Guy Walmsley, John Errington, Mike Hattrick (92 on c/b)were very happy winning Meal Vouchers for 3 couples at Luna Estate, with Nick Allen, Ju Allen and  Richard Warren (92 on c/b) looking forward to their massage by Antoni Smolnicki and afterwards enjoying  a Margrain wine tour.

Martinborough Hotel sponsored Yellow Ball Challenge, where you have to keep the yellow ball in play was won by Karen Stephens, Bill Jones and  Liam Annis, 

The Nearest the pins went to Sheldon McNamara ( 6) Marilyn Mackenzie (8), Ian Stewart (12 and 16)