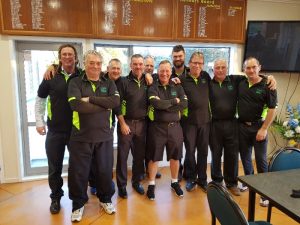 WELLINGTON INTERCLUB CHAMPIONS – 
FROM LEFT: Alistair Boyne, Chris Ranish, Colin Whibley Smith, Captain Bill Crook, Sheldon Mc Namara (sunnies on head) Derek Stephens, Tom Hindmarsh, Andrew Lawler Randal Warner and Mark Lucock.
Congratulations to our Mens inter club team who won Division 7 Linnell Cup yesterday needing only two wins from their  7-8 result against Judgeford away. Its been 23 years since we last had a team playing in any Wellington Interclub Competition and this year Captain Bill was thrilled to have twenty players who made themselves available for the Comp. With a core of eight regulars special mention must go to Sheldon Mc Namara having straight A's from wins in all ten singles matches.
The last round was away to Judgeford with the lads experiencing wind, rain and hills to climb for the first 7 holes. Wins in the four ball to Tom Hindmarsh and Mark Lucock 3/1, Sheldon Mc Namara and Chris Ranish 3/2, Colin Whibley Smith and Bill Crook Square, and Andrew Lawler and Randal Warner also all square. In the singles Tom H 3/2, Sheldon 1 Up, Chris R 6/4, and Colin W S 4/3.
The Marquis Shield team are not doing too well as a team however the Seniors are sharing the top of the scoreboard in the Workman Cup.
Womens Interclub.
The Silver Pennant team have picked up their game and are now off the bottom of the table with three rounds to go. The Bronze gals have finished their season, the Riverside Cup team are in the mix, while the Tilson team have had yet another postponement due to inclement weather, not that any farming associated players are too distraught about this.
Nine Hole
The Nine holers are finding their feet and experiencing new courses and are only a point behind neighbours Masterton.
Competitions
The Order of Merit has started, if you missed the first round its not too late to enter the fray with the next round on Sunday 23rd July, mark that down NOW !
NAGA SHIELD- Captains V Presidents Team Stableford Comp- Sunday 28th May. Free Entry and please be at the Club by 10.45am for a Tee off @ 11.15am.
Tournaments
Trust House E10 Womens Open Day- Friday 2nd June 2017.  Sherry Weatherstone Trophy Best Nett.
Martinborough Kindergarten Fundraiser Ambrose on Monday 5th June.
Ngahau Trophy and Grandmas and Grandpas Tournament Sunday 18th June.
Please see noticeboard for details.
NEW MEMBERS
A very warm  welcome to all our new members and look forward to seeing you on the course. We do have coaching available from Joel Macklin from All Teed Up to improve you game.
An update of the COURSE PLANT AND EQUIPMENT
DIESEL FUEL TANK
Earlier this year we replaced our old 400Ltr Diesel Tank with a larger 950Ltr tank. This came about because our fuel supplier had for sometime shown reluctance with supply to us, and the existing  tripod type mount structure been no longer accepted in the regulations. We therefore took the opportunity to purchase a new larger tank with the regulation 4 post mounting structure, which also meant we were able increase our normal delivery spacing from every 2 weeks, to monthly. As for the old tank; the intention is for this to be completely flushed and repositioned adjacent to the garden area to the left of the 11th green. Periodically this will be manually filled with water and used to irrigate this garden area.
WOODCHIPPER
Our course is a heavily tree populated property generating large amounts of waste from annual pruning and wind damage. In the past we have simply gathered and burnt this waste. This process has irritated some of our neighbours and members alike. We therefore went ahead and purchased the largest chip adjustable wood chipper suitable for purpose, so that we can reuse this waste. The intention is to now use larger chipped material under trees with exposed roots in high wind prone areas, and smaller sized chips in areas where roots and weed control is a factor. NB. There will be no free relief if your ball ends up amongst these chips. Please be aware when playing that there may be roots under your ball.
JACOBSEN R311T ROUGH MOWER
We are very fortunate to have a good relationship with the members and administration of the Royal Wellington Golf Club. Earlier this year we became aware of RWGC's intention to upgrade some of their equipment in preparation for the Asian Pacific Amateur Championship being held on their course in October. Consequent to this, we were offered one of their hardly used (in our opinion) Jacobsen Rough Mowers at less than a tenth of the current new price ($85k). This is a fantastic acquisition for us to take the pressure of our current aging gang mowers, whilst also freeing up a tractor for other purposes.
BILLY GOAT DEBRIS LOADER
We are very please to advise that a grant applied for from Eastern & Central Community Trust was accepted enabling us to go ahead with the purchase of a much needed Billy Goat Debris Loader.
For those who don't have iron disease, a Debris Loader is a large capacity garden vacuum cleaner and mulcher, with its own 4 stroke motor power source.
In the future the intention is to use this for gathering the large amount of Oak leaves and acorns that fall each season, then spreading this waste in the forest areas (i.e. RHS 2nd fairway, LHS 11th Fairway etc) to help with weed control. The past practise was to manually gather and burn this waste. Hopefully we have now created a win win situation for our neighbours, members, and the environment. We are also hopeful this machine will assist with core collecting during greens and tees renovation work.
OTHER
We have added and replaced a couple of additional items. We now have a second utility vehicle for staff to use around the course. You may also have seen this vehicle during our larger tournaments ferrying food and drink for players. Also our aging Stihl weed eater and Stihl Blower needed to be replaced earlier this year when repair costs became unviable.
CAPTAINS COMMENT
Purchase of the above equipment has been made possible by careful budget management, raffling of the Club Captain and Presidents car parks, fundraising at the Easter Mowdown Tournament, contributions from the Ladies Committee, and wheel spin raffles when possible.
Your committee is extremely grateful and thanks all those who have contributed their time and money, to make these extra purchases possible.
But this is only the beginning…………..
As well as the ongoing work with our greens and tees, our fairways and irrigation system are at least two areas that will require a fair amount of attention in the coming year or two.
I believe that is very important that we continue to make steady carefully considered investments and improvements across the board to enable us to prepare for the future demands that will be place upon our Club. I think you will all agree that Martinborough is now truly a hotspot for weekend visitors and holidaymakers all looking for great memorable experiences, which we can be part of and hopefully at the forefront of the activities.
As always the Committee will keep you informed and involved with any major decision making,
WEEKLY RESULTS
If you don't subscribe to the local newspaper  – Wairarapa Times Age on Thursdays, please go onto the Website www.martinboroughgolfclub.co.nz and check out the blog.