MARTINBOROUGH GOLF REPORT – BY JENNY BOYNE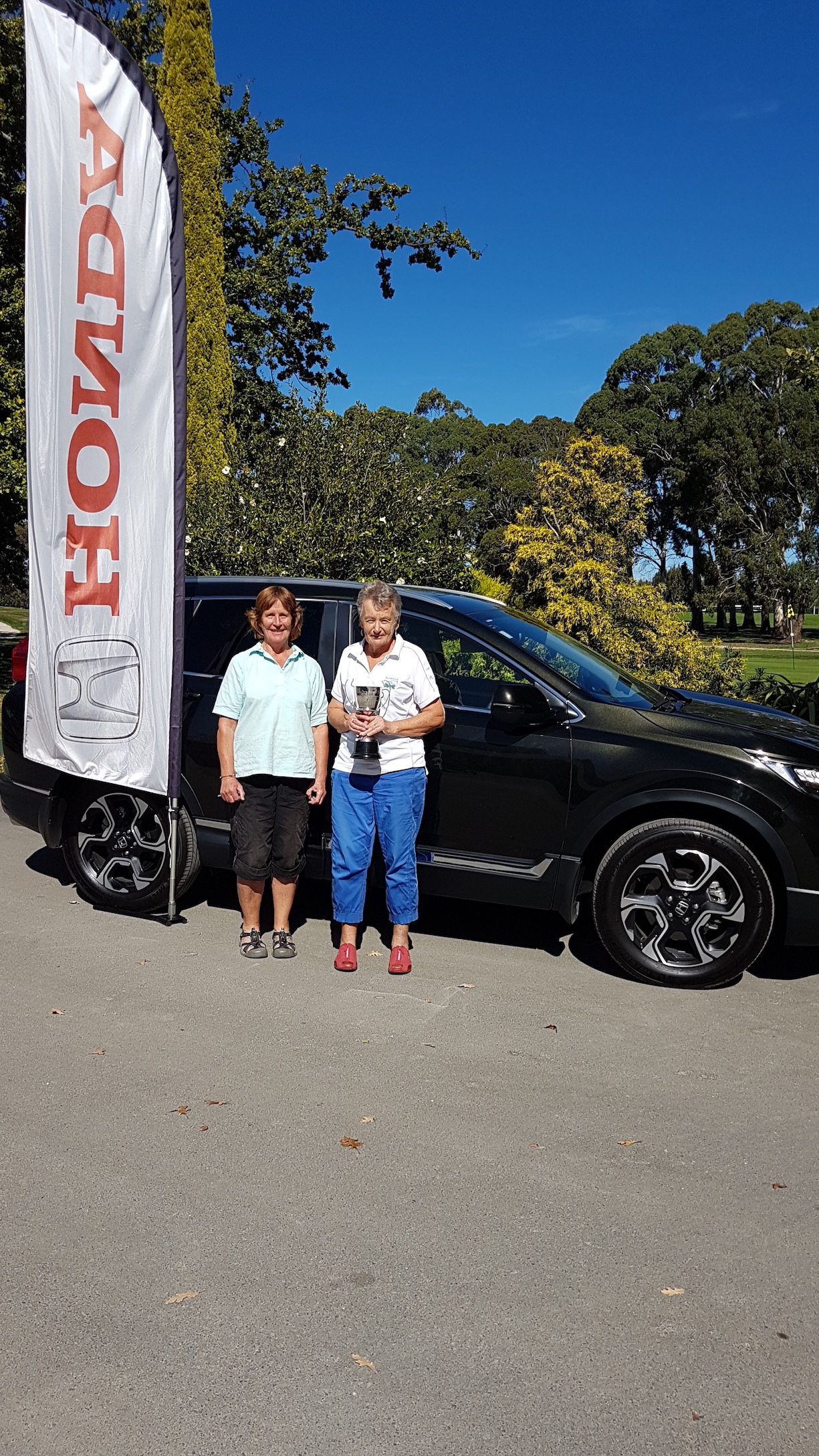 From Left: Gill Neal and Ann Renall Joint Winners of the Southey Honda 9 hole trophy
The sun was shining for the annual Southey Honda 9 Hole Tournament held last Wednesday at Martinborough. This event has grown over the years and the organising Committee were very pleased to announce that Ann Renall, a Martinborough Member, took out the top prize on count back for the Best Nett competition from  Gill Neal (Masterton), 3rd Helen Ordish (Masterton), 4th Dianne Alexander (Masterton), 5th Jane Watts (Masterton) and 6th Gaylene Selby Neal (Martinborough). Longest Drive Front 9 – Di Herbert, Back 9 – Geri Southey, Nearest the Pin Front 9 – Lizzie Goodall, Back 9 – Jinny Small. We would like to extend our appreciation  to Southey Autoworld Ltd for their continued support of this event.
On Friday the club hosted another successful St Johns Fundraising Tournament with thirty three teams of four competing. Thanks to the generosity of the sponsors and the willingness of those present to part with their cash come Auction time this event continues to be the success it is for St John Wairarapa.
Our Captain Guy Walmsley on behalf of the Club, took great honour in accepting an award, A Priory Vote of Thanks to the Martinborough Golf Club for their valuable assistance rendered in furthering the work of the Order of St John in New Zealand. The award  was presented after the Tournament by Eddie Jackson, St John Midland Chief executive on behalf of the Prior, Dame Patsy Reddy. Over the past eight years the Golf Club has allowed St John to organise a charity golf tournament during the St John appeal week with all proceeds going to St John. St John Wairarapa has benefited by receiving over $65,000 to further their work in the district.
There's been was a bit of a scramble to select teams for our local Interclub Comps.   Tilson Salver selector Gretel was in the hot seat after last months crushing defeat by Carterton with only one player gaining re selection,  Sylvia Beavis did not disappoint winning 5/3. Martinborough produced one of their best wins ever in this Comp 5.5 to 0.5 over RBGC at Masterton. The other wins from Kris Chamberlain 3/2, Marion Mc Kenzie 1 Up, and Mariana Mc Dermott all square. In the four ball wins to Kris Chamberlain and Mariana Mc Dermott 2/1 and Marion Mc Kenzie and Sylvia Beavis 2Up. Round 2 of Riverside Cup was played at Riversdale Beach last Friday against a formidable Carterton team. Wins to Jo Loe 3/2, Felicity Warren 6/4 and Bindy Mc Leod all square.
On Tuesday a number of the Clubs members attended the funeral of Shirley Rattray, Shirley loved golf and was very handy with the putter winning the Putting Cup for a number of years. At the age of 84 she successful managed a hole in one on the 16th and whats more was featured on Page three of this paper, a feat no other golfer in the region has attained. Our sincerest condolences to Shirleys family and friends.