MARTINBOROUGH GOLF REPORT
BY JENNY BOYNE
To make the Cut for the Shootout, one puts themselves under so much pressure on Competition days not to have any blow outs in order to produce a reasonably good score, then the fun and games begin.
This year the women had 30 players vying for a spot and as we only compete over 9 holes, ten souls blindly engaged into the legendary Martinborough spirit of expect the unexpected.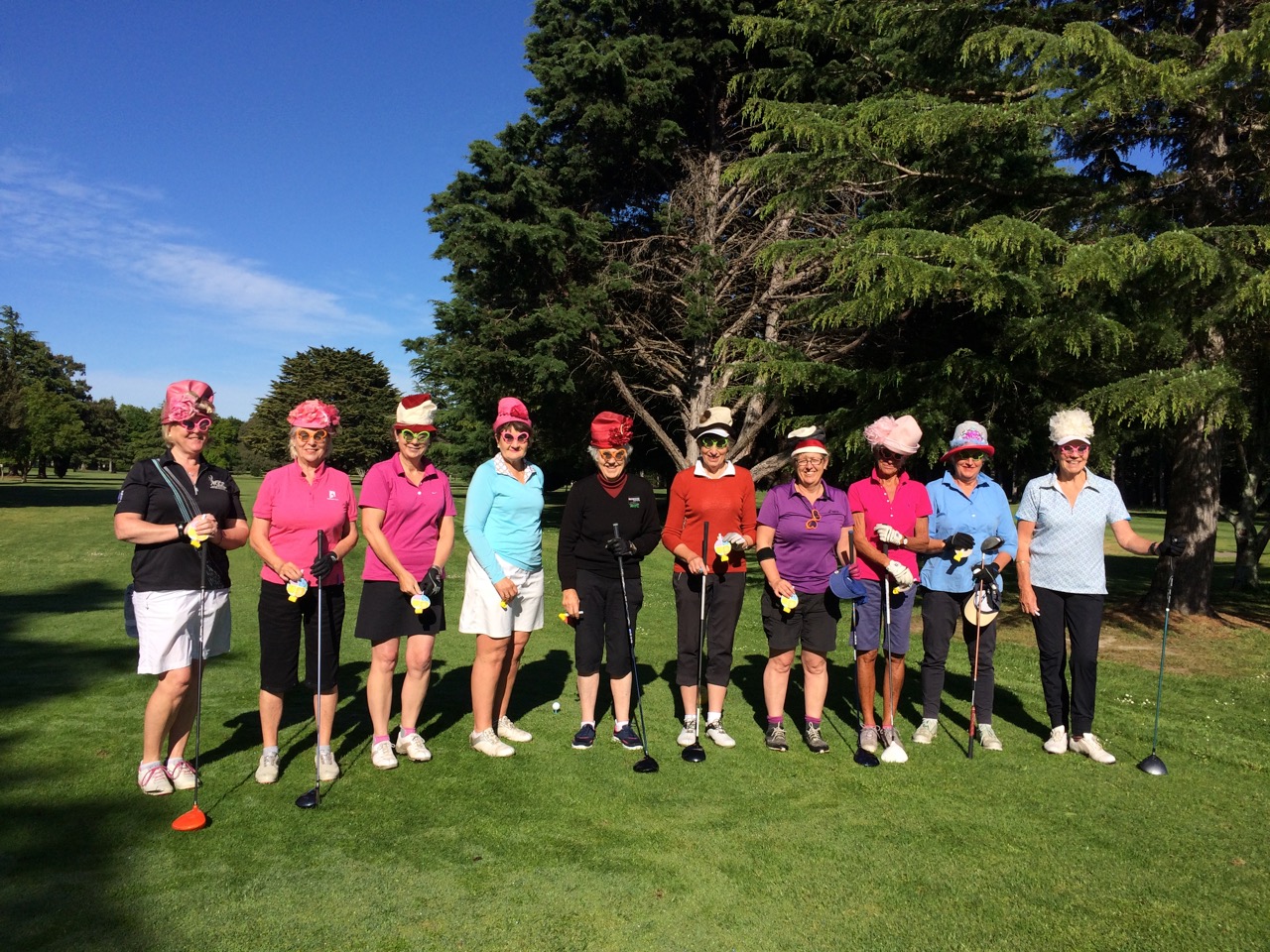 From Left. Kris Chamberlain, Bindy Mc Leod, Carol Parkinson, Marie Scrimshaw, Sylvia Beavis, Lyle Griffiths, Karen Shaw, Mary Desbonnets, Angela Busby and Alison Tipler
First to fall was Mary after a few hiccups under the big Mac she was back on track before the ball decided to pause on the lip. Surviving the wilderness, tacking up the 10th fairway to the 11th green , Carol was delighted to find herself thrown a lifeline in a three way chip off, though the rope broke and with a big smile she gracefully slipped away. Captain Kris made a few mistakes on the 12th and with no shots was lead to the drinks cart to console her misfortune. Alison, new to the Comp cooked her goose on unlucky for her Number 13.  Silver sirens Angela and Sylvia both performed poorly on this hole with a deadlock chip off, they then putted with the crowd singing Happy Birthday to a departing Angela on the 14th.  The remaining five all played this hole to their handicap so we had what is believed a first, all in the chip off. The stage was set under the tress on the left of the 15th green, with only one going past the hole and a couple short of the green we said au revoir to Marie who was leading the sweepstake.  Boxing on to the 16th all had a good start on this hole, however Bindy was thinking of  Christmas and the putting turned to Eton mess. After a great tee shot on 17 Karen hung in there and it looked as though we would be having another chip out, only for her pesky ball to decide otherwise. Down to two and the commentary was hushed, play short or long, long at least the ball has a chance to go in the hole. A great chip by Sylvia put her in the box seat, Lyles chip gave her an opportunity to birdie, releasing a bit too quick rolled past up the hill. Putting downhill the ball stalled mid way and  facing a still ewe caused angst in the proceedings and the ball rolled past the hole, tapping in to finish. Sylvia nudging her ball close to the hole  before slotting her putt to win the Crown for 2017.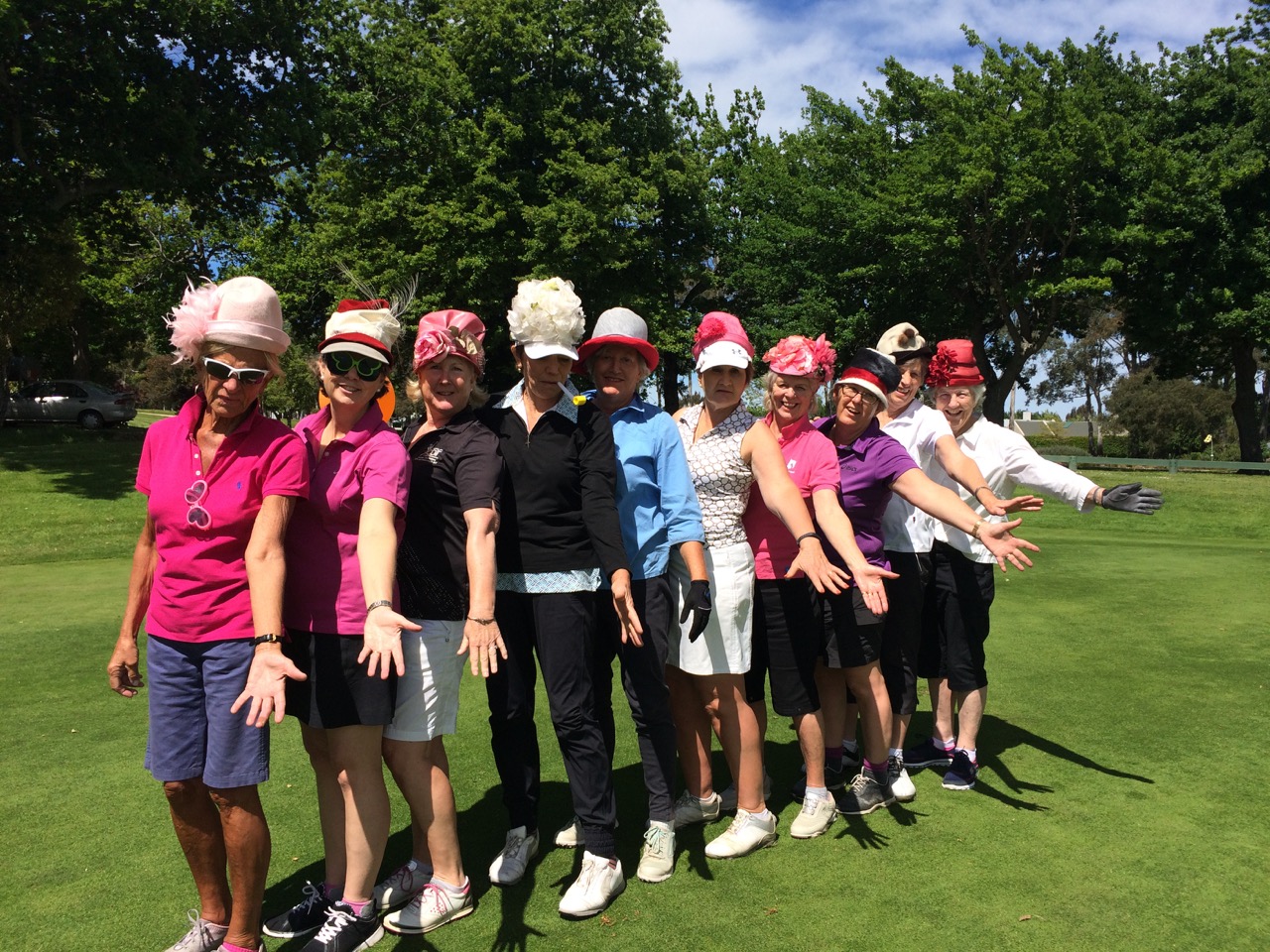 Shootout top ten – How they finished From left: Mary Desbonnets, Carol Parkinson, Kris Chamberlain, Alison Tipler, Angela Busby, Marie Scrimshaw, Bindy Mc Leod, Karen Shaw, Lyle Griffiths and Sylvia Beavis.
Thanks to Robyn Blackett for her role as referee and to Jo and Louise for the hijinks and dispensing cart.
The Tuesday Grumpies played a stable ford round with the winner Randall Warner on 42 points from Paul Riddiford and Terry Blacktop on 40 pts.
The Nine holers also played their Shootout on Wednesday and they too had a load of fun and on the final hole it came down to last years co Captains with Sherryl Howie the Winner and Mary Herrick having to settle for Runner up.
The Nine holers  also held their open day on Monday and were stoked to have  85 in the field after 3 pulled out at the last minute.
Thirteen Clubs were represented: Masterton, Carterton, Manor Park, Marton, Otaki, Paraparaumu Beach, Pauatahanui, Manawatu, Feilding,  Waikanae, Shandon and Kapiti and a number of our own gals from Martinborough .
The Prize table was groaning and the Club house was all decked out to welcome the Visitors.
Results: Division 1
1st Shona Thomson 23 (Paraparaumu Beach)
2nd Fiona Burrows 22 (Pauatahanui) on a c/b to Cherryl Baillie (Manor Park)
4 th Jill Yortt 21( Marton)
5th Jaquee Reid 19 ( MBA) on a c/b to Barbara Gray (Manor Park)
7 th Belinda Cattermole 18 (Manor Park) on a c/b to Jenny Tosswill (Martinborough) on a c/b to Venna Seymour (Kapiti) on a c/b to Paula Thomson (Paraparaumu Beach).
Division 2
1st  Debbie Coom 27 (Martinborough)
2nd  Val Diedrichs 26 (Masterton)
3rd Julie Weber 23( Martinborough)
4th  Karen Atkinhead   22 (Masterton)
5th  Joan Ward  21( Carterton) on a c/b to Ginny Small (Masterton)
7th  Ann Renall 19 (MBA) on a c/b to
Jo Guscott (MBA) on a c/b to
Billie Holmes  (MBA) on a c/b to
Dianne Alexander   (Mstn) on a c/b to
Lindy Williamson  (Mstn) on a c/b to
Helen Carr  (Shandon)
Men:
1st Trevor Anderson 22 (Kapiti)
2nd Graeme Harper 19 (  Otaki) on a c/b to
Doug Hipkins (Waikanae)
4th Colin Payne 18 (Waikanae) on a c/b to
John Burns  (Waikanae).
A hugely successful day and thanks to all the players and sponsors for supporting the day.
And  after being a member here at Martinborough for the past 15 years and 2425 rounds our life member Bill Jones  found himself in unfamiliar territory, shouting his playing partners, no not for his birthday but for a poor Tee shot on the 5th not making the Womens tee.