Martinborough Golf Report
Reporter: Ailsa Malneek
Did you hear the one about the butcher, the builder, the plumber and the farmer?  Well, they make a formidable Ambrose team and were back on winning form at the Martinborough Kindergarten Ambrose Fundraiser on Queen's Birthday.   The day was a huge success with a full field who enjoyed on course refreshments, raffles and an auction to top the night off. There were a host of volunteers and sponsors, but massive thanks to Gloagy and Kate Patterson who took the reins this year and organised the event. They raised over $11,000 – thanks to the generosity of the community, and some further afield. The winning team consisted of (left to right in photo) Nigel Malneek, Shane Hartnell, Craig Colton & Scott Reid, 2ndTeam Taylor, & Stephens, 3rdTim & Jo Lowe, Marilyn McKenzie & Andrew Sim. 4thTeam Gumboot & Scrimshaw, 5thTeam Fenwick & Nicholson.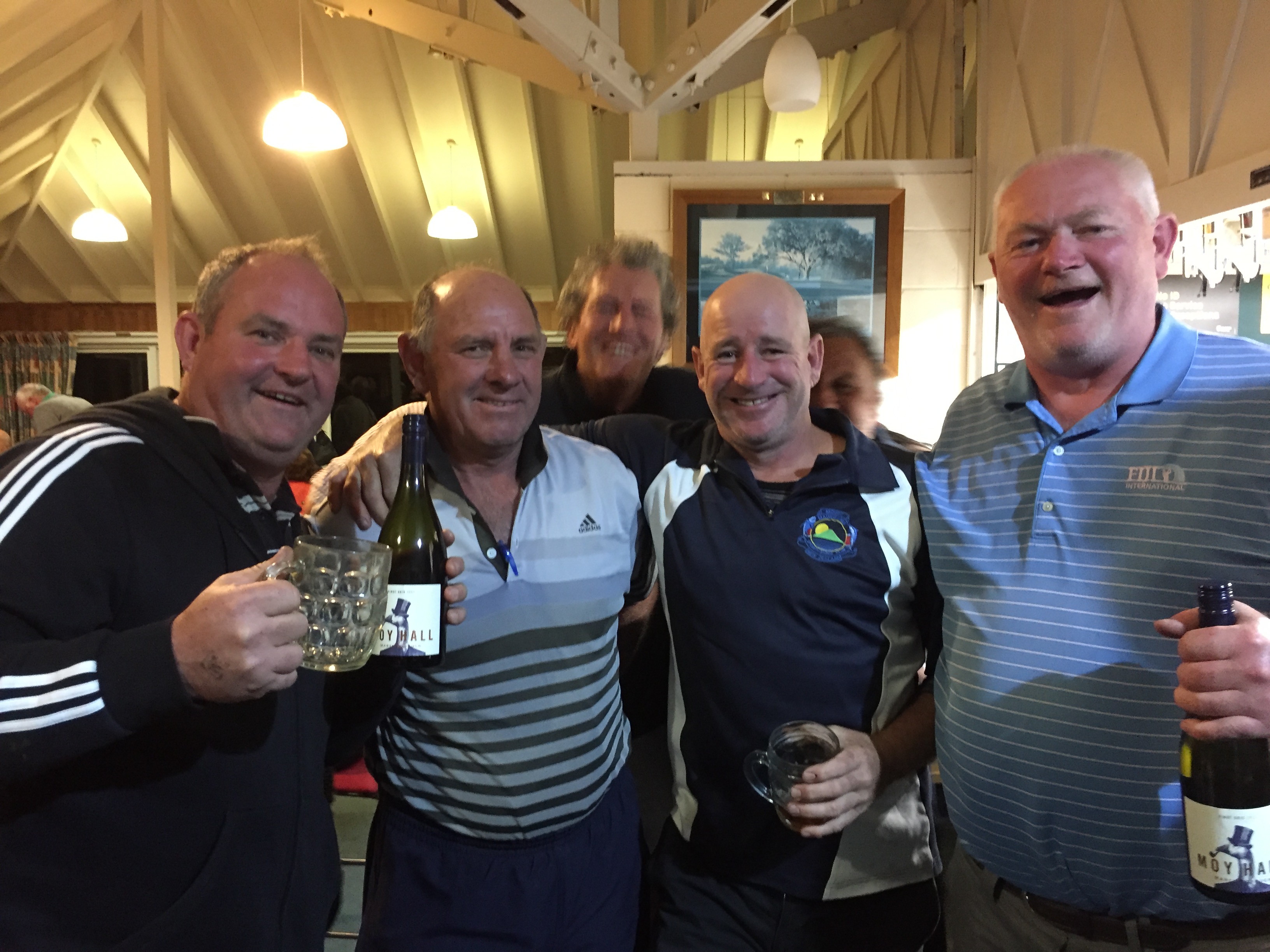 Grumpies winner this week was the organiser Terry Blacktop  41, 2ndChris Ranish 40, 3rd Elaine Howe on 39, 4th Randall Warner and Garry Cuttance on 38.
The 9 holers are finishing their matches for the Howie Handicapped Champs so those not involved played a Stableford Round last week 1st Jane Fanselow Price 22, 2nd Mary Herrick 20, 3rd Leonie Wilde 19.
The ladies silver Pennants team finished the season in third place, so, with the Bronze team finishing second, it was a good year for Pennants.  Last Wednesday was a Bisque Par round; 1st Julie Weber +9, 2ndJu Allen +8, 3rdBindy McLeod, Carol Parkinson and Marie Scrimshaw +6.   Ju and Carol won nearest the pins and were also the only ladies who scored twos.
Thursday was a lower turn out than usual…possibly due to the inclement weather brewing in the South! 1stNick Morison 42, 2ndPaul Shepherd 40, 3rdEd Elworthy and Dave Stevenson.  Twos, deep breath…..Dave Kershaw, Rob Coy, Nick Morison, Dave Stevenson, Paul Shepherd, Chris Ranish, Malcolm Bridge and Doug Clark who also scored closest to the pin.
Coming up…..Sunday 16thJune – Ngahau Grandma/Grandpa trophy; don't let the name deter any folks lacking the 'pipe and slippers' and/or offspring!!
Stay warm, over these next few wintry days and nights…another high is on it's way next week – and good golfing everyone!!