Martinborough Golf Report
Reporter: Ailsa Malneek
As we prepare to farewell the last week of winter (hooray), we've had some testing weather over the last week, but at least we got to enjoy the snow-capped mountains as a reward when the rainclouds cleared!!
First up this week, the 9-holers had a special celebration and held a very successful reunion of 21 Years of 9 Hole Golf in Martinborough last weekend, it started with a Meet & Greet at the Clubrooms on Friday night, followed by 35 playing Ambrose Golf on Saturday morning followed by a Soup & Cheese Roll lunch, and a birthday cake.  A delicious dinner for 60 was served at the Village Café on Saturday night and breakfast Sunday morning.  Their results from the previous Wednesday are 1st Jaquee Reid 16, 2nd  Jan Ferguson 12 and 3rd Adrienne Sisson 10.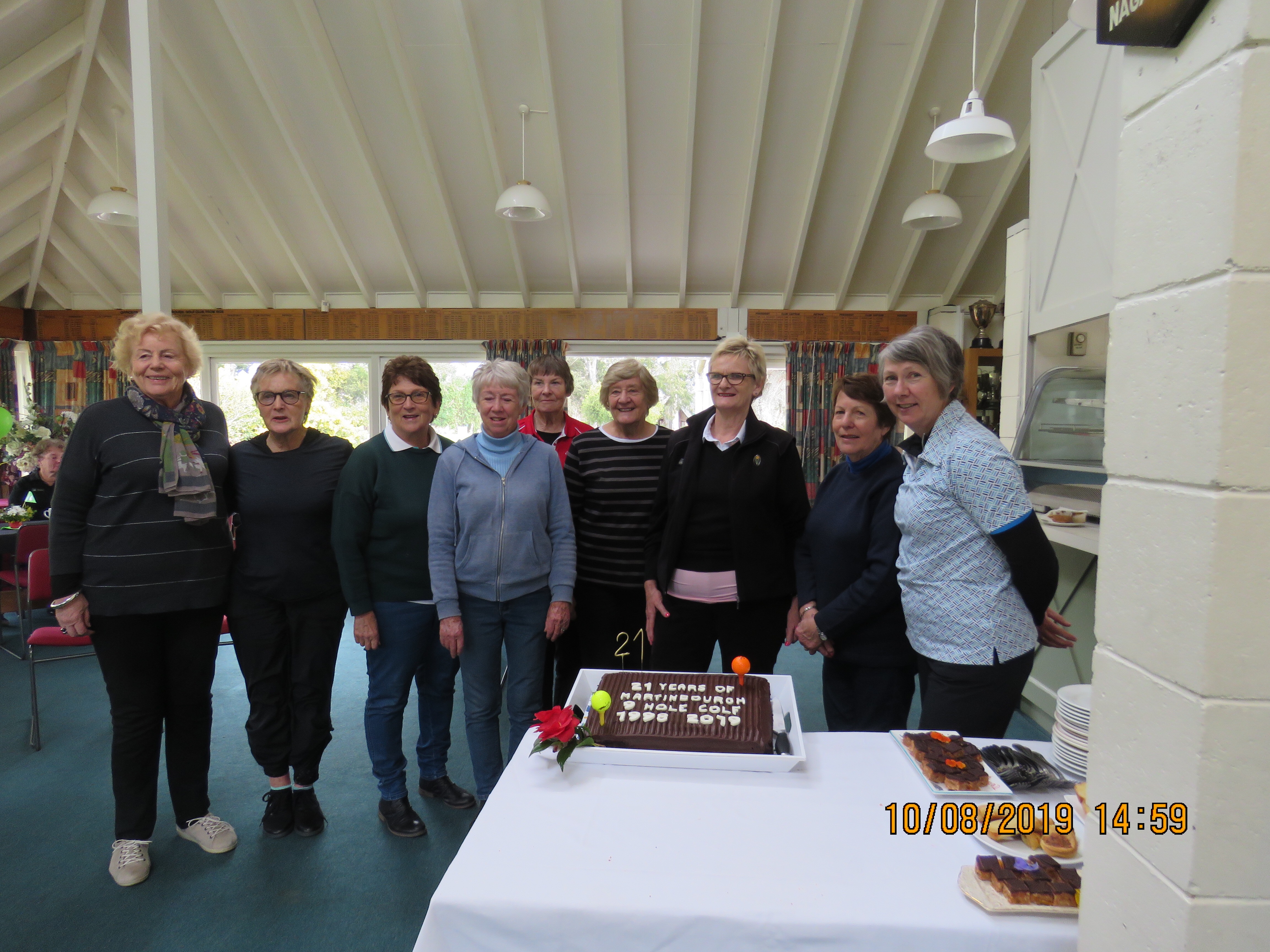 Grumpies results: – 1st Pete Price 37, 2nd  Nick Allen 36 and 3rd Terry Blacktop 34.
Ladies golf and Julie finished first (again!) with Bindy McLeod second and Honor Clark and Sue Dinnison equal 3rd.  The putting was won by Julie Dondertman with 29, followed by Marie Scrimshaw on 31 and Ju Allen with 32.  There was no change to the shootout scoreboard.  Nearest the pin on All Teed Up No 6 was Ju and Jenny Wilkie was closest on Cafe Medici No 8.  Bindy had the only two.
Thursday had a good turn-out of 50 players making the most of the sunshine, 1st Michael Tosswill 43, 2nd Chris Ranish 41, 3rd Rob Lopez 40, 4th = Doug Ferguson, Nick Allen & James Blundell 39. Twos: JD Smith, Nick Morison, Doug Ferguson, Rob Lopez, Craig Andrews, Michael Tosswill & Brent McKinlay – nearest the pin Rob Lopez.
Saturday was the Lefties/Righties Tournament; Best Gross Andy Morison & Ray Matthews, Best Nett Shane Hartnell & Andy Small, 2nd Nett Bill Ward & Rob Lopez, 3rd Nett Roger Ngahooro & Steve Mawdesley.  Best Nett Women Jenny Boyne & Jenny Lloyd, Best Nett mixed – John & Julie Warner. Nearsest the pins – Jacky Nathu, Dave Workman, Andy Morison & Guy Walmsley.
On a sad note, we give our condolences to our new Featherston members with the loss of Norman Douglas in his 94th year; he served on the committee for years and was a life member, he will be sadly missed by all, RIP Norm.
That's all for this week – Lamb & Chardonnay on 22nd September – get your entries to Kris in the office asap as places are limited and go like hot-cakes!!  Have a good week and good golfing everyone!You