MARTINBOROUGH GOLF REPORT
BY JENNY BOYNE
The Club Championships have commenced, and  with very little golf being played over this Winter a number of players have found themselves in new divisions this year. The top seeds in the Womens Silver Championships Pip Kirk and Kris Chamberlain have byes this week. Sandra Petersen(4) will be playing Jenny Boyne (5) and Sherry Weatherstone (3) is playing Jenny Wilkie (6).
In Bronze A  four of these gals have eased themselves into this Division. Bindy Mc Leod has the Bye. Ju Allen(5) v Honor Clark(4), Marilyn Mackenzie(3) v Karen Shaw (6)and Jo Loe(7) v Carol Parkinson (2).
Bronze B Marie Scrimshaw(1) v Elaine Howe(8), Angela Busby (5) v Louise Smith(4), Sue Dalton (3) v Alison Tipler(6) and  Nicola Warren (7) v Emily Loughnan (2).
It will be the very first time that these four stateswomen have not played in the main Club Championships opting to play Vets this time. Mariana McDermott v Robyn Blackett and Jaclyn Kras v Sylvia Beavis.
Last Wednesday the women played Bisque par with Jaclyn Kras winning the Comp with +6 on a c/b to Carol Parkinson. All Teed Up NTP on Number 6 went to Sandra Petersen while Louise Smith picked up the Medici Voucher NTP on Number 8. No twos.
The Nine holers played a stable ford round and the limelight has been shining in a new direction over the last couple of months down on the new gals. Congrats to Debbie Coom winning with 21 stable ford points, 2nd Julie Weber 19 pts, 3rd Ann Renall 16pts. Leaders Susan Stephens NTP on 16 was won by Jenny Tucker. They too commence their CC matches this week.
Everyone loves the taste of Lamb and a rich buttery Chardonnay is good with just about any kind of vegetable or salad so it was of no surprise that the annual Lamb and Chardonnay Ambrose Tournament has a wait list a week out from the day. The organisers would like to thank all those who entered the Eastwood Motor Group Ambrose Tournament  making it a runaway success on Sunday. One putt seperated the top 5 placings with 1st place going to Team Mike Paterson having the perfect combo a very low handicap, a mid fielder and the others in the mid twenties winning with a Nett 56.5.  2nd Going for birdies on every hole with a combined handicap of just 3.75 Team Ivan Karaitiana's  Eastwood MG Nett 57.25. 3rd Locals Colin Whibley Smith and Co Nett 57.375  on a c/b to Clark and Co. 5th Lizzy Thomson inclusion propelled Team Thomson to their winning score and spoils Nett 57.5.
Loads of raffle and spot prizes generously donated by Eastwood Motor Group and friends of Martinborough Golf made the winners very happy.
The Thursday Club continues to be the most popular day on the Mens calendar , this week fifty eight players were there for their weekly fix. Playing some superb golf of late Malcolm Bridge won the days Competition with 44 stableford points. 2nd Murray Blackwell with 41pts on a c/b to Sandra Petersen. 4th Chris Wilkie back from the UK and with coaching from his dad Maurice on 40pts on a c/b to Bevan Sweeney. 6th Rob Smith 39 pts. 7th Colin Whibley Smith 38 pts on a c/b to Keith Rayner on a c/b to Terry Blacktop on a c/b to Guy Walmsley on a c/b to Tony Taylor from Featherston on a c/b to Sandy Bidwill. NTP on Number 8 went to Sheldon Mc Namara who picked up his two on number 6. Other to get a two were Malcolm Wood, David Kershaw, Douglas Clark and Bob Tosswill.
The finals of the AB Martin Fourball was played on Thursday, Malcolm Bridge and Colin Whibley Smith were on fire on the back nine dashing all hope to their opposition Shane Hartnell and Alistair Boyne, Malcolm and Colin slotting five birdies on the last ten holes. What a match winning 4/3.
The finals of the Harry Kershaw Foursomes were played on Saturday , the pairing of Dale Scrimshaw and Derek Stephens after a very poor start had a bit of a discussion walking to the 5th tee. It worked, winning on the 5th they settled down to gain some traction and control of their game against  Doug Clark and Trevor Petersen. Dale and Derek successfully securing the title on the 17th for 2017.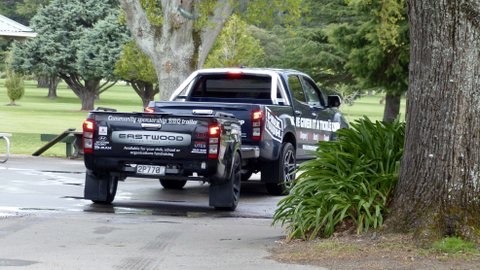 Thanks Gary Allan from EMG for coming along with the Trailer BBQ, Much appreciated.
Photo Guy Walmsley.