Martinborough Golf Club
By Honor Clark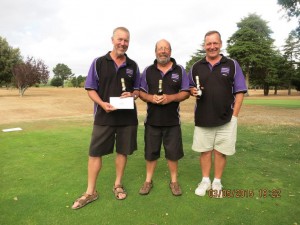 ProAm Winning Team, Nga Waka (L to R): Roger Parkinson, Peter Hudson, Derek Stephens
Last Tuesday the Martinborough Pro-Am finished in an exciting play-off on the Par 3 8th hole surrounded by spectators. The victorious professional was Rotorua-based Victor Janin who had to battle Taupo's Troy Ropiha twice down the hole to win. Both players scored par in the first play-off hole, but a bogey from Ropiha the second time around gave the victory to Janin. Both shot 8-under 64 in their earlier round. Auckland-based professional, Brad Heaven was third with 6-under 66. The amateur team results: 1 Nga Waka Vineyard on a count back with 99 Stableford points, receiving rounds of golf at Cape Kidnappers and accommodation at Wine Country Lodge, Havelock North, 2 Spark Business team on 99, 3 Scotty's Meats also on 99, 4 Sereana Phillips team 96, 5 Sharpies 95 on count back, 6 Hydroflow 95, 7 Fagan Motors 95, 8 BNZ 95. The Titleist Solo Ball Challenge was won by the Sereana Phillips team. Nearest the Pins: No. 6 Steve Blucher, No. 8 Bob Hill, No. 12 Caleb Everson, No. 16 Ian Stewart.
Organisers were extremely happy with how the event went. Geoff Smart of the NZPGA was very complimentary and said that there is nothing like a tournament at a country club and the pros really enjoyed the event. The main sponsor, Spark Business, was very happy with the day and will support the event again next year, which is a real triumph.
On Wednesday last week the 18 Holers held the first competition of the Year; LGU, Captains Trophy and Shootout, which saw 33 players take to the field. Results all divisions were 1st overall Elaine Howe Nett 66, 2nd Natalie Donaldson Nett 67, 3rd equal Jenny Wilkie, Lyle Griffiths and Sharon Jephson all on Nett 68. All Teed Up Nearest the Pin on number 6 was Jaclyn Kras, while Mariana McDermott took out the Medici Café voucher for a coffee and cake Nearest the Pin on number 16.  Jenny Boyne had the only two, using the putter from within the bunker on number 8.
The 9 Hole ladies had a big field of 27, playing a putting round. The winner was Sherryl Howie with 14 putts on a count back from Maureen Thurlow also with 14, and 3rd Honor Clark with 15. All Teed Up Closest to the Pin on No. 8 was Jenny Tucker, and Susan Stephen Closest to the Pin on No. 16 was Jenny Tosswill.
Thursday Club was won by Graeme McIsaac with 43 Stableford points, from Andrew Sim with 42, Alan Eagle 41, Marie Scrimshaw 40, Paul Riddiford 39, Sandra Petersen 39, Murray Blackwell and Bill Jones 38.
The Club Opening Day on Saturday saw 63 golfers play Ambrose golf. The winning team was Kathy Taylor, Whitney Griffiths, Andrew Sim, Mok Baker with 55.75; 2nd Graeme McIssac, John Taylor, Lachie McLeod, Marie Scrimshaw 56; 3rd Patrick Pedlow, Andrew Gibson, Sandra Petersen, Elizabeth Tait 56.38, 4th Gavin Lovejoy, Helen Kirk, Liam Annis, Ro Griffiths, 5th Sir William Southgate, Dayle Scrimshaw, Peter Hudson, Ailsa Griffiths. Nearest the Pin No. 6 Bill Crook, No. 8 Lachie McLeod, No. 12 Derek Stephens, No. 16 Andrew Sim.
The Sunday Par competition was won by Marie Scrimshaw with +9, from Derek Stephens +3, Phil Eberlein and Terry Blacktop +2, and Bill Crook, Roger Parkinson, Cathy Taylor and Malcolm Wood all +1. Two's: Malcolm Wood (3), Bill Jones, Shane Arndell, Alistair McHaffie, Ali Holmes, Neil Catherall, John Taylor and Marie Scrimshaw.